3 Things You Didn't Know Microneedling Could Do
Brookes Pittman, APRN | 09/30/2018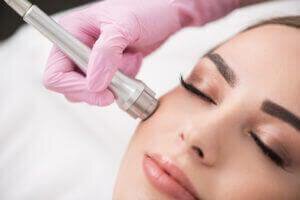 Your friends may get microneedling done, you may follow some bloggers that get microneedling done, but you may not know the first thing about it. Microneedling is a minimally invasive procedure that uses hundreds of tiny pin-like needles to make microscopic punctures in your skin. Once your skin has been punctured, it then signals your skin to create healthier skin in the process. But what can microneedling help treat? Let's take a closer look at three things that microneedling can do that you may not know about.
Increases Elasticity
A loss of volume and elasticity in your skin are two things that are normal for everyone to experience as they start to age. And even though you can invest in fillers that help restore the volume to your skin, did you also know that microneedling can help as well? By creating microscopic punctures in the skin, microneedling helps trigger your skin's natural healing response which, in turn, creates a bit more collagen in the process.
Decreases Stretch Marks
Anyone can get stretch marks just from growing from a child into an adult. But, if you have recently undergone some dramatic weight loss or if you have been through pregnancy, then you may have even more stretch marks to add to your plate. One of the unique things that microneedling can help treat is these stretch marks. After multiple treatments, we can increase the collagen in your skin which helps to reduce the appearance of these stretch marks and give you back more of your pre-baby self.
Uneven Texture
Do you ever wonder what it would feel like to be able to leave the house without wearing makeup? If your uneven skin texture is making you feel like you'll never leave the house without at least a little bit of foundation on, then you may be surprised to learn that microneedling can help. Because microneedling works by signaling your skin's natural response to heal itself, it creates newer, healthier skin in the process which can leave you with a more even complexion. As you can see, there are several benefits of microneedling, and these are just three of them. If you want to learn more about microneedling or if you're ready to schedule a consultation, then contact our Ponte Vedra Beach office today and call us at (904) 686-8020.
Tags