3 Things to Know About Microblading
Brookes Pittman, APRN | 04/30/2018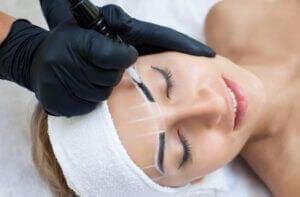 If there's one trend to follow this spring, it's the eyebrow trend. Not only are thicker, fuller, eyebrows in style, but darker eyebrows are also all the rage. And although eyebrow pencils can do the trick sometimes, we at Contoura Facial Plastic Surgery Center have a way for you to get your dream brows without having to spend 30 minutes penciling them in every day. How? With microblading. Microblading is a semi-permanent cosmetic tattoo procedure that helps to temporarily fill in your eyebrows while transforming the shape, volume, and color with just one process. Let's take a closer look at three things to know about microblading.
It's Temporary
As previously mentioned, one of the biggest things we like our patients to know before getting microblading is that it's temporary. However, most patient's results last for about 12-18 months on average.
Results Will Fade
One of the most shocking things for patients when they first see their eyebrows is that they will look a lot darker and more pigmented for the first few days. Try not to freak out; this will fade in about 3-4 days— revealing more subtle and natural looking eyebrows in the process.
They Can Transform Your Eyebrows
If you were part of the skinny eyebrow trend in the 90's and early 2000's, you might not have many eyebrows leftover. Not only was over plucking a big deal during this time but let's just say, people thought that the skinner brows you had, the better. Luckily, with microblading, we can add volume and shape to your existing eyebrows to help give you the fuller eyebrows you've been wanting. Microblading is a fun trend that we don't see going anywhere anytime soon. Are you ready to learn more about microblading or schedule your consultation? Contact our Ponte Vedra office today: (904) 686-8020.
Tags