3 Tips To Help You Fight Bacterial Acne
Dr. Roberto Garcia | 04/15/2019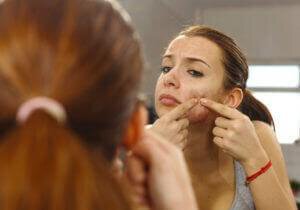 There are two main types of acne: hormonal and bacterial. If you suffer from bacterial acne, then we have a few tips to help you hopefully get rid of your breakout and start embracing clearer, healthier skin in no time.
Don't Pop It
If you are the type of person who picks at your skin and pops every zit, then you are probably spreading bacteria all across your face. Everytime you pop a pimple, bacteria from the pimple gets on your skin which can lead to a lot more acne in the process. Instead of popping your pimples, leave them and let them dry up on their own. If you really want to zap them, you can use an over-the-counter acne spot cream that has salicylic acid in it.
Wash Your Face
A dirty face means more pimples. Try getting into the habit of cleansing your face at least twice a day with an acne fighting cleanser— remember that the cleaner your face is, the better. If you are on the go, you can use cleansing wipes to cut down on the oil and bacteria on your face.
Get Chemical Peels
Another thing that we encourage patients to do is come into our office every month or so to get a chemical peel. One of the great things about chemical peels is that they almost instantly cut down on acne-causing bacteria— something that you want. By targeting the top layers of your skin, chemical peels work to treat a variety of skin care concerns including ane, acne scars, fine lines, wrinkles, and hyperpigmentation.
It doesn't have to be difficult to treat your acne, but it does require you to be really diligent. If you want to learn more about how to treat your acne, contact us at our Ponte Vedra Beach office.
Tags