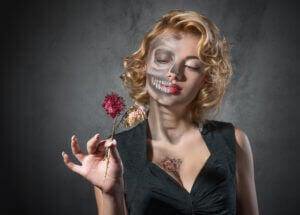 If you are planning on dressing up for Halloween this year and going all out, then you are likely going to paint your face or put on a lot of makeup. Makeup is one of the easiest and best ways for you to completely transform your look without you having to spend a fortune on a mask. And although you may look cool on the day of your Halloween party, if you're not careful, you may wake up the next day with some serious acne. Because a lot of Halloween and costume makeup has a lot of oil in it, it can easily clog your pores and break you out. So, what can you do to make sure that you don't break out? Read on to learn more.
Don't Share
If you plan on getting ready for Halloween with a large group of family members or friends, make sure that you don't share your makeup. Because oil and dirt can transfer from one person to another, when you share makeup with people, it makes you more susceptible to breaking out.
Get New Makeup
Another thing that you should do is make sure that you are buying new costume makeup. Old costume makeup that may have been sitting in your drawer all year may break you out even more. Plus, because costume makeup can be relatively cheap, you shouldn't have to break the bank to buy a new set.
Wash and Repeat
As soon as you come home from your Halloween party, make sure that you take your costume makeup off with a cleansing towelette and then wash your face with facial cleanser right after. By doing double duty in the face cleansing department, you can make sure that you get rid of all of the makeup and any leftover dirt or residue that may also lead to breakouts When it comes to preventing Halloween makeup induced acne, there are a few preventative things that you can do. To learn more about how you can take better care of your skin, schedule an appointment at our Ponte Vedra Beach and call us at (904) 686-8020.
Tags