When to Seek Acne Treatment
Brookes Pittman, APRN | 03/15/2018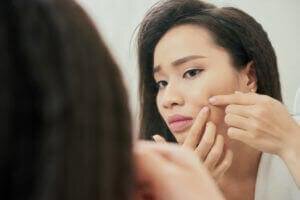 If you are the type of person who deals with a toothache until your tooth practically falls out, you walk on a broken ankle until it's numb, and you avoid all doctors at basically all costs, then seeking treatment for something as small as acne may seem impossible for you to do. However, although a pimple here and a pimple there will go away on their own, there are some scenarios in which you should call Contoura Facial Plastic Surgery. Here are some of the reasons you should seek help for acne.
It Won't Go Away
If you are a female, getting a few pimples during that time of the month is normal. However, if you are experiencing chronic acne that just won't go away after about a week, it may be caused by a skin or bacterial infection. With the proper treatment and diagnosis, we should be able to get your acne to go away.
It's Painful
Acne— especially when you have a lot of it— can be physically painful. If your acne is causing you pain every time, you touch your face or around a pimple, we can help. With the proper treatment, you can find relief from your acne pain.
It's Scarring
The last thing you want to have to remember is your acne— especially for forever. If you have noticed that you are scarring from your acne, let us help you find a solution. Although It is possible to successfully get rid of acne scars, it's easier to stop acne before it scars, to begin with.
It's Affecting Your Self-Esteem
One of the biggest problems that we see in many of our adolescent patients who are struggling with acne is a loss of self-esteem. And although your appearance isn't everything, it certainly can play a big role in how you feel. Whether you are 12 or 32, if your self-esteem is struggling because of your acne, we can help. Acne treatment can save your skin and your self-esteem. Gain control over your acne and schedule your acne consultation at our Ponte Vedra Beach office today: (904) 686-8020.
Tags