The What, How, and Who of Facial Liposuction
Brookes Pittman, APRN | 06/30/2018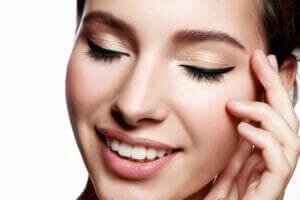 You've undoubtedly heard about liposuction for your abdomen, upper thighs, and buttocks but here at Contoura Facial Plastic Surgery, we offer patients a different type of liposuction: facial liposuction. So, what is this unique form of lipo, how is it performed, and who is an ideal candidate for this procedure? Let's take a closer look.
What Is Facial Liposuction?
If there's one thing that's extremely popular among fashion bloggers, makeup artists, and just women everywhere it's facial contouring with makeup. But sometimes no matter how much makeup contouring you do, you still can't get that Kim Kardashian worthy look— that's where facial liposuction comes into play. With facial liposuction, we use a thin hollow tube called a cannula to remove localized areas of fat across the face. The results? A slimmer, more contoured looking facial appearance.
How Is It Performed?
Dr. Garcia can perform facial liposuction either on its own or in conjunction with other anti-aging surgeries or procedures. If this procedure is performed alone, we can do it in-office under mild sedation with a local anesthetic. If Dr. Garcia does it in conjunction with another facial surgery, it will be done at a JCAHO/AAAHC accredited surgery center with board-certified anesthesiologists, certified registered nurse anesthetists, and registered nurses. During this procedure, Dr. Garcia will use a unique, natural technique that results in barely visible scars that blend into the natural creases behind the ears and under the chin. The entire procedure is done by Dr. Garcia from start to finish, so you can rest assured that you are in the best hands.
Who Is a Good Candidate For Facial Lipo?
Here at Contoura Facial Plastic Surgery, we strive to give our patients the appearance they have always wanted. If you have always wanted to have a little more contour and definition in your cheeks but have a rounder face, then facial liposuction may be ideal for you. Ideal candidates for this type of surgery include patients who are in good overall health but want a thinner facial profile. Does facial liposuction sound like a procedure that you're interested in learning more about? Schedule a consultation at our Ponte Vedra Beach office today and call (904) 686-8020.
Tags