Want Thicker Brows Without the Fuss? Consider Microblading
Brookes Pittman, APRN | 10/30/2017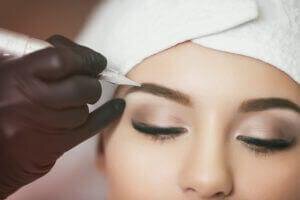 If you think about your morning routine, there are a few things that come to mind: maybe a cup or two of coffee, a nice hot shower, makeup, and yes, even penciling your brows. And although there are a variety of different tools that you can use to fill in your brows— pencils, powders, gels, and more included— it can be beyond frustrating to get the perfect symmetrical look. Microblading is gaining traction as one of the most popular ways for patients to get thicker, darker looking eyebrows without having to fill them in every day. As a semi-permanent form of tattooing, microblading involves implanting pigment under your skin. We use a handheld tool rather than a machine. Although this unique technique is popular now more than ever, there are still many thing's patients are unaware of.
Does It Hurt?
If you got a tattoo ten years ago that you're now regretting (Can you say tramp stamp?), you likely remember the pain. Although microblading isn't necessarily relaxing, most patients experience minimal discomfort or scratching. To help you feel more relaxed during this procedure, we will apply a topical numbing ointment to your brow line.
Does It Look Natural?
One of the largest complaints that people have had in the past regarding eyebrow tattooing is that it looks unnatural. However, with the use of hair-like strokes over your existing browline, our specialists can give you a more natural look. For about three to four days after your first treatment, your brows will be darker, but they should fade by 30-40 percent.
Does It Last?
Remember that microblading is a semi-temporary tattoo. Depending on your skin type and age, microblading can last an average of 12-18 months. One of the best ways to make sure that the pigment stays is to follow proper after-care instructions. For instance, patients should stay away from moisture including sweating, swimming, or showering afterward.
Schedule a Consultation
To learn more about microblading or to schedule a consultation at our Ponte Vedra Beach office, please call (904) 686-8020
Tags